To answer 'The Clarion Call'
is to be of service to our Galactic Founders -
as the human collective speeds simultaneously,
either toward Ascension for those who can sustain it,
or destruction for those who choose it.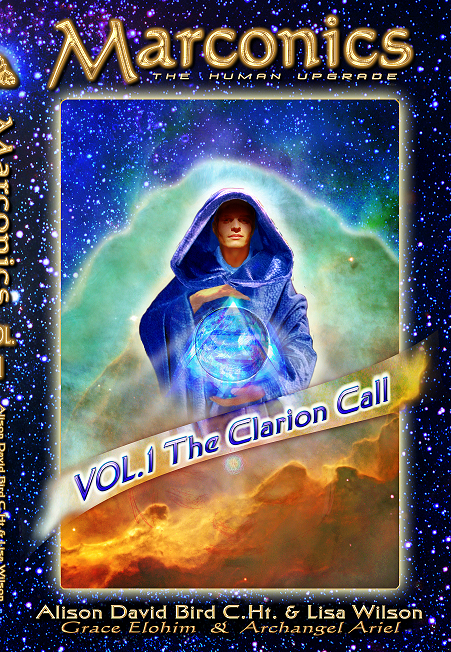 Testimonial from Julia Molino -

Publishers Weekly, NY
I just finished the book this morning and really liked it. It reads like a novel --engrossing action and dialog but also imparts information that I found intriguing and that resonated with me because I am familiar with metaphysics, having studied Carl Jung and others.
...you lead the reader ...with this book, into slowly understanding, chapter by chapter, that there may be no way to avoid it, and if this is the case, then accepting the human upgrade is the way to be saved and help others be saved if and when the time comes.
While I don't think it will be as big as Star Wars, it does remind me of another bestseller in the early '90s called the Celestine Prophecies.
Marconics: ~The Clarion Call... By Alison David Bird & Lisa Wilson
The true account of the spiritual journey of two women with extraordinary soul contracts who discover that they are the incarnate leaders of an Atlantean rescue mission 56 million years in the making. This is the story of humanity's origins, the illusionary constructs devised for our experiences on earth, and how we can break free and awaken to return to our true multidimensional nature.
REVIEWS
"I love, love, love this book. Every page is infused with Marconics energy! It feels like a continual recalibration"

- PAT SWEENY, MA
"I love this book and I can recommend everyone interested in higher dimensions and Ascension to read it!"

- LINDA VERDADE, Norway.
"This is such a great book, I am so glad to be apart of this work, and so happy I followed my heart to the September class of 2013, and also got to be at the first expo!"

- SYBIL WALKER, MA
"I bought my book on Amazon and put it on my Kindle, it is with me at all times. Marconics: The Clarion Call is a must read for all those interested in learning more about the Ascension Path, especially light workers."

- NUBIA LONSDALE.
Purchase a signed paperback copy
$17.99*
*Free shipping in the continental U.S.