Level 1 - 2023
September 2 - 3 Apache Junction, AZ

September 9 - 10 Long Beach, NY

September 9 - 10 Austin, TX

September 14 - 15 Athens, GA

September 16 – 17 Dallas, TX

September 16 - 17 Barre, MA

September 16 - 17 Bend, OR

September 16 - 17 Boulder, CO

September 23 - 24 North Andover, MA

September 30-October 1, San Antonio, TX

September 30-October 1, Fort Collins, CO

October 7 - 8 Cortlandt Manor, NY

October 12 - 13 Athens, GA

October 14 – 15 Austin, TX

October 14 - 15 Barre, MA


October 14 - 15 Londonderry, NH

October 16 - 18 Erie, CO

(3 evenings)

October 21 - 22 North Andover, MA

October 21 - 22 Apache Junction, AZ

October 21 - 22 Stroudsburg, PA

October 21 - 22 Colorado Springs, CO

October 21 - 22 Avon, CT

October 28 - 29 Santa Fe, NM

October 28 - 29 Golden, CO

November 1 - 2 North Andover, MA

November 4 - 5 Apache Junction, AZ

November 4 - 5 Bend, OR

November 4 - 5 Boone, NC

November 4 - 5 Eagle/Vail, CO

November 11 - 12 Ridgway, CO

November 11 - 12 Barre, MA

November 11 - 12 Ellington, CT

November 11 - 12 Wimberley, TX

November 15 - 16 Boulder, CO

November 16 - 17 Athens, GA

November 18 - 19 Fort Collins, CO

November 18 - 19 Stratford, CT

November 18 - 19 Spokane, WA

November 18 - 19 Nashua, NH

December 1 - 2 Cranston, RI

December 2 - 3 Stratford, CT

December 2 - 3 Boulder, CO

December 2 - 3 Madrid, NM

December 7 - 8 Athens, GA


December 9 - 10 Apache Junction, AZ

December 9 - 10 Bend, OR

December 9 - 10 Lawrence, MA
Level 1 - 2024
January 6 - 7, Londonderry, NH

January 11- 12 Athens, GA

Janaury 12 - 13 North Andover, MA

January 13 - 14 Bend, OR

January 13 - 14 Crested Butte, CO

January 13 - 14 Apache Junction, AZ

January 13 - 14 Ashford, CT

January 20 - 21 Boulder, CO

January 20 - 21 Boone, NC

January 20 - 21 Spokane, WA

January 20 - 21 Fort Collins, CO

January 20 - 21 Dallas, TX

January 25 - 26 Athens, GA

January 27 - 28 Telluride, CO

February 3 - 4 Crested Butte, CO

February 10 - 11 Apache Junction, AZ

February 10 - 11 Londonderry, NH

February 17 - 18 Bend, OR

February 17 - 18 Aspen, CO

February 17 - 18 Austin, TX

February 22 - 23 Athens, GA

March 2 - 3 Eagle/Vail, CO

March 9 - 10 Apache Junction, AZ

March 9 - 10 Spokane, WA

March 16 - 17 Bend, OR

March 23 - 24 Fort Collins, CO

March 23 - 24 Austin, TX

April 4 - 5 Spokane, WA

April 6 - 7 Bend, OR

April 6 - 7 San Antonio, TX

April 13 - 14 North Andover, MA

April 27 - 28 Londonderry, NH

May 4 - 5 Bend, OR

May 4 - 5 Vernal, UT

May 4 - 5 Spokane, WA

May 7 - 8 Salt Lake City, UT

June 8 - 9 Austin, TX

June 29 - 30 Bend, OR

July 13 - 14 Boise, ID

October 26 - 27 Spokane, WA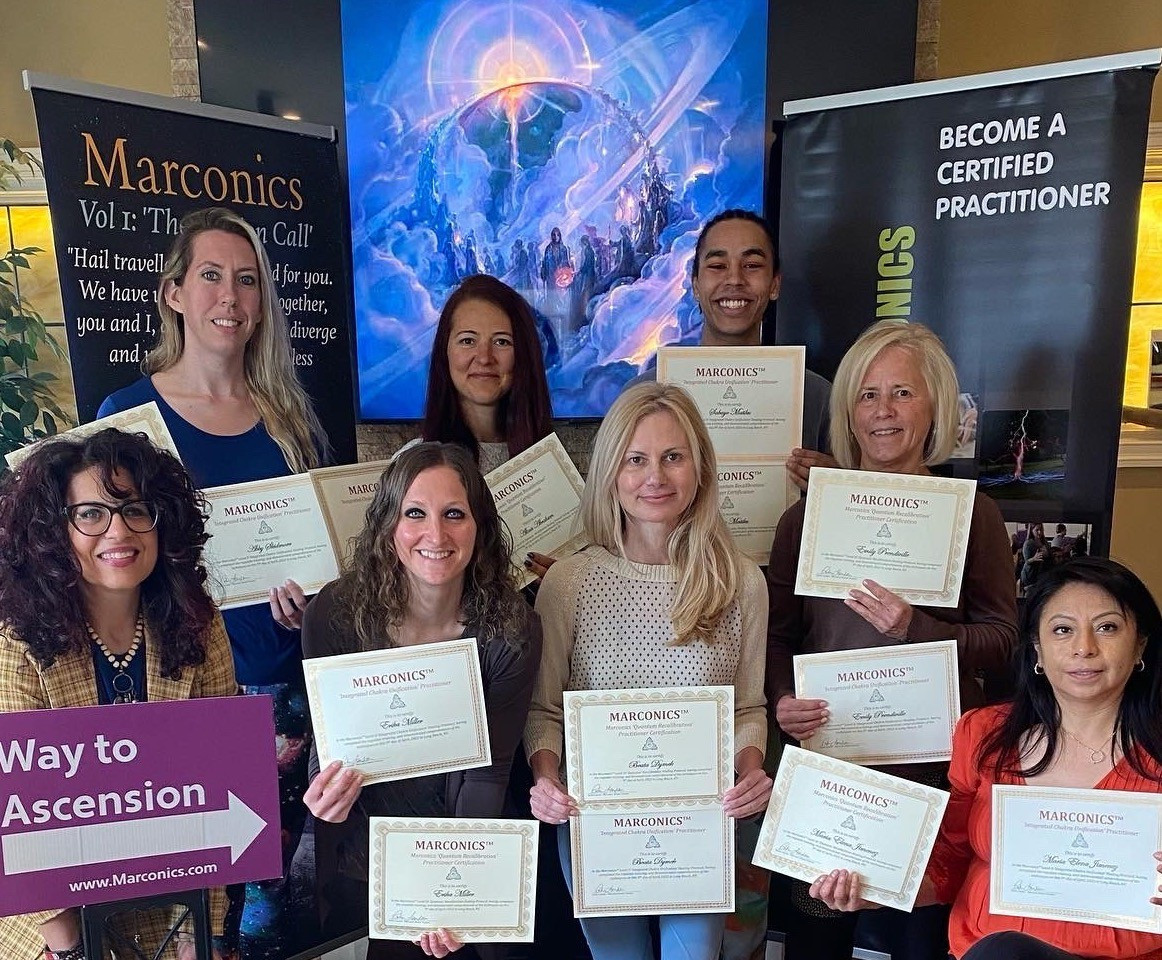 'No-Touch'
Level I
Have you hit a "ceiling" in your life (or your healing practice)? Then this is what you've been waiting for!
Join Certified Marconics Teachers for this two-day Level 1 Marconic 'No-Touch' Practitioner Training.
This exciting and expansive course spanning such topics as: The Origins of the Shift into the New Age, The Development of Lightbody, The Body Hologram, and healing through the Unified Field.
Whether you decide to become a healer or, simply use Marconics frequencies to further your own personal Spiritual journey - you will be forever transformed after attending.
Graduates receive certification as

Level 1: Marconic
'No-Touch' Healing Practitioners

Receiving the Marconics 'Quantum Recalibration' is a pre-requisite for all attendees of Level I Classes. If you have not yet received one, we can schedule one for you at the event.
It is also recommended that you read the Marconics books, to provide you with foundational information.
Level I 'No-Touch' Class Fees:

US: $550
UK: £444
CAN: $650
Japan: ¥66,000

Marconic Recalibration Appointment:
Receive your own upgrade by one of our certified teachers.
US: $333
UK: £333

CAN: $444
Japan: ¥55,000
Learn about:

ORIGINS OF THE SHIFT

HEALING THROUGH THE MULTI-DIMENSIONAL HOLOGRAPHIC BODY

INTEGRATION OF HIGHER SOUL IDENTITIES; REUNIFICATION/ONENESS


ACTIVATION of 144-STRAND DNA

LIGHTBODY/MERKABA MECHANICS

SOUL SOVEREIGNTY
Level 1 - 2023
January 28 - 29 Essex, England UK

June 3 - 4 Essex, England UK

August 22 - 23 Essex, England UK

October 28 - 29 Essex, England UK
Level 1 - 2023
2023
2月4日~5日 神奈川
4月23日~24日 東京
6月17日~18日 福岡
7月29日~ 30日 東京
10月21日~ 22日東京

10月28日~29日 神奈川
11月1日~2日 福岡
2024
近々発表される予定
Level 1 - 2023
September 16 - 17 Burlington, ON Canada

November 11 - 12 Harrop, BC Canada

November 8 - 9 Burlington, ON Canada

November 18 - 19 Burlington, ON Canada
Level 1 - 2024
February 10 -11 Vancouver, BC Canada

March 16 - 17 Burlington, ON Canada

April 20 - 21 Burlington, ON Canada

August 17 - 18 Burlington, ON Canada

August 17 - 18 Nelson, BC Canada

October 19 - 20 Burlington, ON Canada

November 16 - 17 Burlington, ON Canada